Graduate Counseling Program
Welcome!
Thank you for taking the time to visit our website and considering the Professional Counseling graduate program of Harding University. We offer an MS in School Counseling degree as well as an MS/EdS in Clinical Mental Health degree. 
As an educator and professional counselor,  I have worked with people from a variety of backgrounds. If there is one professional lesson that I have learned time and again it is this: All people, if given the opportunity, can learn!  We have a responsibility to educate students from all backgrounds, and, here at Harding, we are particularly proud of the our graduates and the lives that they impact every single day.  Our graduate programs are known for graduating leaders who are successful administrators, counselors and human service professionals who have their sights on providing excellent care.
In addition to teaching, faculty also show students a myriad of career opportunities. Many professors work with students, both undergraduate and graduate, in research, presenting findings at conferences, applying for scholarships, and serving the community through outreach programs. In this way, the School's mission is carried out on a daily basis.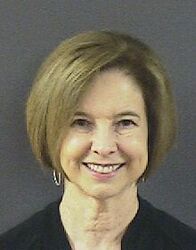 I invite you to read our materials on this website and please contact us for more information so that we can assist you in fulfilling your future vocational goals.
Sincerely,
Dr. Jenene Alexander
Program Director
Professional Counseling: Clinical and School