Chemistry Department
Welcome to the Department of Chemistry at Harding University. If you are searching for a college in which to pursue your interests in chemistry, biochemistry, biochemistry & molecular biology, or the health professions (medicine, pharmacy, physical therapy, dentistry, etc.), then I hope you will seriously consider Harding University.
The faculty in the Department of Chemistry are talented professionals dedicated to providing excellent instruction. In addition to teaching their classes and laboratories, the faculty provide special help review sessions, conduct field trips, and provide individual help when help is needed. They also direct student research projects and help students become more proficient science communicators. The faculty are also committed Christians who sincerely want their students to grow spiritually as they excel academically. Several regularly teach Sunday Bible classes or have Wednesday evening Bible studies in their homes. All are dedicated to teaching science within a Christian context. We are very proud of our student's accomplishments. Please take a minute to look at the "Students" tab.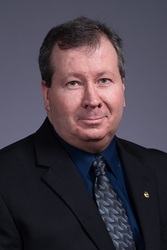 The Williams-Miles History of Chemistry Collection at Harding University has been recognized by the American Chemical Society as a National Historic Landmark. For more info...
Please feel free to stop by and visit when you are on campus.
Dennis L. Matlock, Ph.D.
Chair, Department of Chemistry
501-279-4702
For Our Alumni
The department maintains a "Chemistry Department Hall of Fame" in the lobby of the Pryor Science Center that lists all of our graduates by their major and year of graduation, advanced degrees they have obtained, and what they are currently doing. If you are an alumnus of the Chemistry Department (or previously the Physical Science Department) and any of this information has changed in the last five years, please drop us a brief email with an update so that the "Hall of Fame" can be as accurate as possible.
Each year at 10:30 AM on the Saturday morning of Homecoming Weekend the Department hosts a "Symposium of Faith and Science."  If you plan to attend the Homecoming festivities at Harding, please stop by and visit with us.
The Alumni Professional Achievement Awards
2013 Dr. John Brazas and Dan Dawson
2012 Dr. Hank Farrar and Dr. Robert Higbee 
2011 Dr. Fred Massey and James F. Strother
2010 Dr. Phil Goad and Dr. Brian Smith
Contact Us
Fax: 501-279-4706