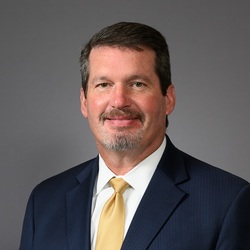 When I graduated in 1989 from the School of Business at Harding University, I was excited about moving to Nashville, TN.  Most of my life had been spent in Searcy, and although I had nothing against the quaint town, I was ready to move on.  My goal was to work in public accounting and someday become a partner.  My wife and I looked forward with enthusiasm the opportunities to establish ourselves in a new city, in our jobs, with new friends, and in a new church home.  All of this happened according to plan.  I still look back with fondness to those days following our college experience.  I see the same excitement in our graduating student's eyes every year.  The college experience and the years that follow represent a tremendous change in life. 
It is wise to have plans, but it is even more important to be flexible to the opportunities God places before us.  My plan was to stay in Nashville, but after a few years, I was approached about returning to Harding and teaching in the School of Business.  Although I was enjoying public accounting, the strain on my family was growing as I traveled extensively.  Although I love Nashville and still visit there frequently, I remembered fondly the community that raised me and could raise my children in the future.  Although I valued the many relationships in Nashville, many of which I still have today, I believed God could use me to impact more lives in Searcy.  I believe God gives each of us talents, I through my work experience, I discovered mine was teaching.  I believe I could use this talent at Harding.    
I had never planned to return to Harding to teach.  This was never one of my goals while I was a student.  However, time and experiences can change a person.  Again, it is wonderful to have plans, but it is also good to be flexible and say "yes" to new opportunities.  Now that I am at Harding, I stress this with my students each semester.
After six years working in public accounting and private accounting in Nashville while also obtaining my masters degree, we moved our family back from Nashville, TN to the beautiful town of Searcy, AR.  However, we were different people at this time.  With some life experience and the start of a family (2 of our 3 children), we came back a different couple, a more mature and responsible family.   I see this same change when our graduates return to Searcy to visit with their families and their career experiences.  We are all growing and hopefully improving in our walk with our Creator.
I have now been at Harding University in the College of Business Administration for over 15 years.  I love this place!  Time has flown, but I have enjoyed each and every semester.  As with all of our faculty members, I am thankful for the opportunity to work with our students.  As I hear the excitement in their voices as they talk about their future careers, families, and leadership roles, I am taken back to that time in my life.  The experience at Harding continues to have tremendous impacts on the lives of our students.  As I share with our graduating seniors, we eagerly await to hear about their success stories once they leave Harding and begin the next phase of their life.  The next time we see them, they will be different people.  They will truly be the salt of the earth.     
Would you be willing to join us as we minister to these students – are you willing to make a difference?
To make a gift and sponsor/provide any of the items listed, click here.
Invest Your Resources
Leadership Seminar – This program is selective and above and beyond a classroom setting; eligible students must be nominated by a faculty member. Further, each participant not only pays the regular tuition fee but also an additional charge of several hundred dollars for their food and lodging. They also purchase and read books in preparation for this seminar – over their summer break. Typically we hold the seminar at a retreat center and students are treated and conduct themselves as if they were in the corporate world; attending from 8-5 pm every day for four days. Like a corporate training, there are guest speakers and students are expected to stay awake, pay attention, be involved in any discussions, etc. At the conclusion, each participant is presented with a Bible signed by the faculty. In sum, this event is an intensive teaching tool of the university and a reward well earned by many of our best students. 
Sponsor a student for leadership seminar - $500

Sponsor two students

for leadership seminar

- $1,000

Sponsor five students

for leadership seminar

- $2,500

Sponsor ten students

for leadership seminar

- $5,000

Sponsor the event

for leadership seminar

- $9,000
Society for the Advancement of Management Case Team – This is a team of 4-5 students who compete and represent Harding University on a yearly basis.  It is considered a prestigious opportunity because team members are selected by the faculty sponsor to reflect well upon the College of Business Administration. In 2008-09, the Case Team added yet another trophy to their many awards by winning first place in the nation.  They competed against universities across the country by analyzing a real world case, performing research, and presenting their solutions to a field of experienced judges.
Sponsor one student for the advancement management team - $1,500
Sponsor two students for the advancement management team - $3,000
Sponsor three students for the advancement management team- $4,500
Sponsor four students for the advancement management team - $6,000
Sponsor the advancement management entire team - $7,500
American Marketing Association Case Competition – Charles Walker, a former teacher here in the Business department, ran this team for a long time. It has recently been re-started and was a national semifinalist in both 2007-08 and 2008-09. Semi-finalist status means we placed in the top 16 schools in the United States in this competition. When we have an outstanding organization of students who are so ably representing Harding, we want to be able to support them and send them to the annual AMA convention. Unfortunately, this is not inexpensive once you factor in travel, hotel, food, registration costs, and paying for a faculty member to chaperone.
Sponsor one student for the American Marketing Association Case Competition - $1,500
Sponsor two students for the American Marketing Association Case Competition - $3,000
Sponsor three students for the American Marketing Association Case Competition - $4,500
Sponsor four students for the American Marketing Association Case Competition - $6,000
Sponsor the entire American Marketing Association team - $7,500
Sponsor the American Marketing Association sponsor- $9,000
Business Club Cookout – At the start of every year, we feed close to 400 students. Our aim is not to just eat burgers and give away free food from our budget; we are trying to connect with students personally, academically, and spiritually. Faculty cook and serve to provide an example for the students and allow them to view us as approachable. All business clubs are represented and new business majors are encouraged to become involved and seek a niche. This removes excuses and provides an open door for every student in our college. Obviously not everyone will become a club officer, but each individual can be a part of a club, learn responsibility in their field, explore their talents, and build their resume for a brighter future.
Sponsor the tent - $800
Sponsor the refreshments - $750
Sponsor the food - $750
Business Etiquette Dinner – If you are a part of the business profession, you must know how to eat at a fine dining restaurant. It may not be your style of cuisine, but if you cannot exist in the culture, you could potentially embarrass yourself at a job interview or even humiliate your employer at an important dinner with a client. Students attend this dinner dressed in business professional attire and learn how to act, what silverware to use for what dish, etc. We have fun, mostly using faculty members for unintentional humor. Students pay for half of the cost and we pay for the other half since in every sense of the word, it is part of their education.  The students are given a book of etiquette which we produce and print for their future use.
Sponsor a table of students - $100
Sponsor two tables of students - $200
Sponsor half of the event - $750
Sponsor the event - $1,500
To make a gift and sponsor/provide any of the items listed, click here. 

Invest Your Time
Be a Guest Speaker – We are interested in successful business leaders willing to speak to a class of students. Creating space for speakers is challenging since teachers still cover their required material, but we believe in the value of our students hearing others' stories. It is all too easy for our students or any neophyte in the business community to assume if you work hard everything will be fine, but when they hear – and see – those who have had to claw their way to success, often through trial, error, and even failure – it gives them a deeper, more textured perspective. Their expectations are changed to reflect reality, and they are better prepared to survive once they leave Harding. If you have interest, please contact us. Again, do not be put off if we have difficulty finding a slot for you; be patient with us as we seek ways to partner with you in our ongoing mission.  Call 501-279-4240 or email bburks@harding.edu
College of Business Network – Perhaps you know of a business looking to hire, or perhaps you have little to do with the College of Business but would simply like to help. When our graduates accept a position in a new community, it would help them immensely to have someone who can tell them where the local grocery store is located, the congregations in the area where they might worship, local doctors, etc. Even ordering a pizza can be a big deal if you don't have a phone book! Another way to serve is by providing a place for one of our interns in your home or the home of another church member. Our students put forth great effort to obtain summer internships but frequently have difficulty finding a place to live; they can't buy a home, and few apartment managers want to lease them a space for just three months. Would you be willing to get involved and join our network for the sake of our hard working students?  Please call 501-279-4240 or email bburks@harding.edu