The department seminar meets in the Pryor-England Science Center (SCI 124) on Monday at 12:00 p.m. throughout the semester. Everyone is welcome!
The Williams-Miles History of Chemistry Collection at Harding University has been recognized by the American Chemical Society as a National Historic Landmark. For more information
Welcome!
Welcome to the Department of Chemistry at Harding University. If you are searching for a college in which to pursue your interests in chemistry, biochemistry, biochemistry & molecular biology, or the health professions (medicine, pharmacy, physical therapy, dentistry, etc.), then I hope you will seriously consider Harding University.
At Harding, you will receive a quality education in chemistry and the other natural sciences. The faculty of the Department of Chemistry are talented professionals dedicated to providing excellent instruction.  In the past four years, two of the chemistry faculty have received distinguished teaching awards and another was honored with the yearbook dedication. In addition to teaching their classes and laboratories, the chemistry department faculty provide special help review sessions, conduct field trips, and provide individual help when help is needed. They also direct student research projects and help students become more proficient science communicators. They mentor their students and provide opportunities for them to make presentations of their work at state, regional, and national science meetings. All are happy to go out of their way to help where help is needed. The faculty are also committed Christians who sincerely want their students to grow spiritually as they excel academically. Several regularly teach Sunday Bible classes or have Wednesday evening Bible studies in their homes. All are dedicated to teaching science within a Christian context. We are very proud of our student's accomplishments. Please take a minute to look at the "Students" tab.
Recently, the University received a $50,000 grant to add a mass spectrometer to our new Shimadzu Liquid Chromatograph equipped with an autosampler and fraction collector. In addition the Department recently received a powder x-ray diffractometer for the determination of crystal structures of microcrystalline compounds. These instruments complement the wide range of advanced instruments available for student education and research. These include a gas chromatograph/mass spectrometer, three additional gas chromatographs, a FT nuclear magnetic resonance spectrometer, two IR spectrometers, an atomic absorption spectrometer, and many other instruments.  For more information, click on the "Research" tab.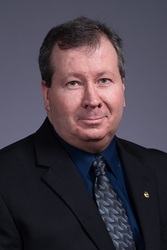 If you are able to visit our campus and department, I would enjoy introducing you to our faculty and students and talking with you about opportunities in the sciences at Harding.


Dr. Dennis Matlock
Department Chair
dmatlock@harding.edu